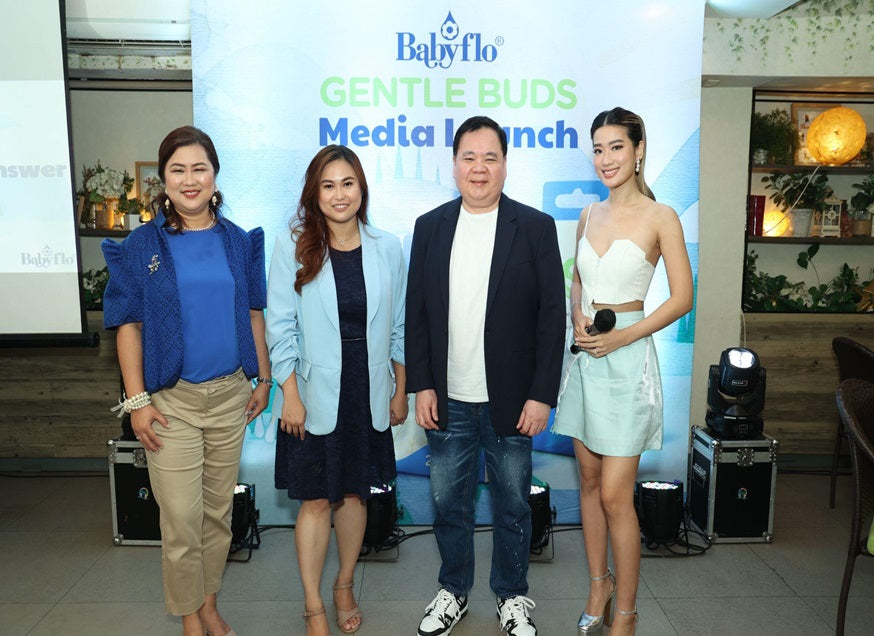 Protect the Planet and your Loved Ones with Babyflo Gentle Buds Eco-Friendly
Cotton buds have been a household staple of families for many years. From personal hygiene to wellness routines, skincare, and beauty hacks, cotton buds are a highly versatile hygiene basic that everyone stowed in their vanity chests. This nifty product has endless ways to use, making it worth buying in every grocery haul. 
Babyflo Gentle Buds Eco-Friendly are made of unbleached paper stems that come from managed forests,, 100% pure cotton tips and they come in biodegradable packaging. 
Yet over recent years, there has been a growing trend of consumers becoming more eco-conscious and making an effort to switch to zero-waste and sustainable products. One of the primary reasons for the rise in sustainability awareness is the growing concern about environmental issues such as climate change, ocean pollution, and deforestation, as well as a desire to live a greener and more ethical lifestyle.
Makeup artist Chuchie Ledesma demonstrates how to use Babyflo Gentle Buds Eco-Friendly for personal care and grooming, including make-up application.
Adopting more conscious choices doesn't have to compromise product quality or our pockets. Babyflo, a trusted heritage brand of PHILUSA Corporation, takes innovative steps to make it easy for us all to finally make the shift by launching its new product line – the Babyflo Gentle Buds Eco-Friendly.
From L-R: Philusa Corporation Head of Marketing Maya Leander, Philusa Corporation Brand Manager Jacquiline Pe, Philusa Corporation President and General Manager Neogin Evangelista, and influencer/host Janeena Chan.
The Babyflo Gently Buds Eco-Friendly is a cruelty-free type of cotton buds made from 100% pure cotton tips and unbleached, sturdy paper stems from responsibly managed forests.  A new tree is replanted for every tree that is used to produce the product. The forest is being managed in a way that preserves biological diversity and benefits the lives of local people and workers, while ensuring it sustains economic viability. The packaging also comes in a biodegradable paper box – guaranteed eco-friendly packaging that decomposes naturally and helps lower plastic footprint.
Philusa Brand Manager Jacquiline Pe introduces the first eco-minded cotton buds in the Philippines with Babyflo Gentle Buds Eco-Friendly
"Through several decades, Babyflo has worked hard to become a trusted heritage brand that offers a range of high-quality cotton buds products at affordable prices. But not only does Babyflo want to assure gentle care for Filipino families, it also aims to gently care for Mother Earth so that we can still have a safe environment from generation to generation," said Jacquiline Pe, Brand Manager of Babyflo Cotton buds.
PHILUSA Corporation is a purpose-driven company that remains true to its dedication to serving the best interest of Filipino families. The company's vision is to help every household have access to eco-friendly alternatives through their brands like Babyflo and Cleene, and implements campaigns for sustainability and nation-building.
Philusa Corporation President and General Manager, Neogin Evangelista, shares his key insights on Philusa's long commitment to sustainability.
Neogin, Evangelista, PHILUSA Corporation's President and General Manager, shared the company's drive to promote a healthier tomorrow, "In recent years, we have seen a growing awareness of the importance of sustainability globally. We believe that being sustainable is not just a buzzword. The choices we make today determine the future of our nation and the generations to come. At PHILUSA, we embrace sustainability as part of our company's strategies, and constantly look for better ways to positively impact the environment with our products and services."
Winners of the event contests pose with their Philusa and Babyflo Gentle buds Eco-Friendly gift bags.
Our small switches to our product habits make a big difference. Make your daily routine more planet-friendly and shop the Babylo Gentle Buds Eco-Friendly at Mercury Drug, Robinsons, Puregold, Metro Gaisano, and other retail stores nationwide. You may also check out here: store.philusa.com.ph